Personal
On a personal note, I am excited and optimistic about something, and that doesn't happen very often.
Late Monday afternoon, a package arrived in the mail. I opened it, watched a YouTube video on getting started one more time, and attached a Continuous Glucose Monitor (CGM) to my upper left arm. Two hours later, after warming up, the monitor began sending information to my smart phone — and my life may have changed.
What I discovered starting with a snack Monday evening was that what I considered a fairly healthy snack or meal could produce alarming blood sugar spikes — spikes that had never shown up on a fasting blood panel and were much higher than the blood sugar levels reflected in my A1C. Such spikes promote responsive insulin spikes, fat storage, and more, in a vicious circle.
Tuesday and Wednesday were eye-openers, too.
Until recently, CGM has been associated mostly with controlling blood sugar levels for Type 1 diabetics and for Type 2 diabetics who have had unusually great difficulty controlling their blood sugar. But I'm neither of those. I am wearing CGM as part of a metabolic study.
But being part of that study is not what motivated me. I'm not altruistic enough for that. What motivated me is the knowledge that I have had metabolic syndrome for more than 30 years, I have been as much is 100 pounds overweight, and my septuagenarian body is starting to feel very vulnerable. My participation in the study, at my own not inconsiderable expense, is motivated by the desire to lose maybe 55 pounds (I'll settle for 90 pounds!) from my current weight and otherwise to heal my metabolic system so as to slow the aging process.
Essentially every credible thing I have read about metabolic syndrome over the past 30 years has convinced me that uncontrolled spikes of serum glucose (blood sugar) is a root cause of many if not most of America's chronic health problems, and that the medical profession's ability to medicate my blood pressure, lipids, and blood sugar "successfully," grateful as I am for it, is no assurance of true metabolic health. Much of what I have read also has convinced me that metabolism varies quite a bit between individuals, and that what my wife may eat safely may be quite bad for my health.
30 years ago, I lost 35 pounds on a very low carbohydrate diet, but that's not a diet for a lifetime, and I gradually put it all back on — plus a 30 pound bonus.
But for the last 48 hours or so, I've kept my blood sugar in control — no big spikes — without elimination of carbs. Indeed, a favorite bread (Great Harvest's Dakota Seed bread) is not a real disrupter. Blood sugar's still too high, but at least it's stable at "a little too high." And a few pounds seem to have come off.
Seeing in real time what that food 30 minutes ago is doing to me now now is very empowering. Getting context-sensitive feedback on the app from the study sponsor (which knows my personal goals) multiplies that. I'm pumped!
Now onto the customary kvetching.
Culture
Not the ideology you think
People who think that leftist agitators for gender fluidity are driven by ideology are correct, but it's probably not the ideology they think it is: it's good old capitalism — capitalism extended into the deepest recesses of personal identity. We can create that for you wholesale.
Metaphysical capitalism at work.
Success looks like kin to slavery
Wendell Berry has a new book, The Need to Be Whole: Patriotism and the History of Prejudice. My copy is on the way, but reviews precede it.
[Wendell] Berry reports on an 1820 exchange between the Southern apologist and politician John C. Calhoun and future President John Quincy Adams … During a walk together, Calhoun praised Adams's principles regarding free labor as "just and noble." However, he added, in "the Southern Country…they were always understood as applying only to white men." Hard domestic and manual labor was reserved to black slaves, an approach that was actually "the best guarantee to equality among the whites." Adams denounced "this confounding of the ideas of servitude and labor," this "perverted sentiment…mistaking labor for slavery and dominion for Freedom," as a terrible consequence of slavery.

Adams indirectly affirmed here the immense value to American democracy of the simple freemen who toiled for subsistence on their own family farms or in their own shops. Berry argues, though, that "Calhoun's values" have in fact won out in America. Success today means to go to the university and so be lifted above the "mind numbing" work of the body and the hands, no matter who gets hurt by the individual's climb upward. Bluntly put: "We all, black and white together, [now] want to be John C. Calhoun," leaving the hard and essential work to lesser men and women.
Allan Carlson (emphasis added)
And as lesser the untermenschen do the hard and essential work, we can wank away at bullshit jobs.
Truths that dare not speak their names
An excerpt from Berry's new book via Katherine Dalton's review:
I have received a number of warnings of the retribution that will surely follow. But I wonder if they have considered well enough what they have asked of me, which amounts to a radical revision of my calling. They are not asking me for my most careful thoughts about what I have learned or experienced. They are asking me to lay aside my old effort to tell the truth, as it is given to me by my own knowledge and judgment, in order to take up another art, which is that of public relations.
How common such warnings are, and how priceless is Berry's refusal to abandon the effort to tell the truth!
[T]he courage to ask for historical understanding, charity, and free political speech from a position that will very possibly be labeled "racist" is rare at the moment.
What will we do without Wendell Berry when the day comes? But I wonder, probably not often enough, whether reading and praising Wendell Berry is some kind of cheap grace for over-educated rich people who sense that all is not well but who act as if it's good enough. People like me.
Superlatively poor medical performance
America's superlatively poor performance cannot solely be blamed on either the Trump or Biden administrations, although both have made egregious errors. Rather, the new coronavirus exploited the country's many failing systems: its overstuffed prisons and understaffed nursing homes; its chronically underfunded public-health system; its reliance on convoluted supply chains and a just-in-time economy; its for-profit health-care system, whose workers were already burned out; its decades-long project of unweaving social safety nets; and its legacy of racism and segregation that had already left Black and Indigenous communities and other communities of color disproportionately burdened with health problems. Even in the pre-COVID years, the U.S. was still losing about 626,000 people more than expected for a nation of its size and resources. COVID simply toppled an edifice whose foundations were already rotten.

It would be nice to say that the pandemic revealed deep-seated problems that we had managed to avoid facing — but now we must face them! Nah. We mustn't, and we probably won't. It turns out that reality has limited power over an infinitely distractible and distracted society.
Alan Jacobs, block-quoting Ed Yong
First, they cheated at chess …
A cheating scandal has rocked the professional fishing world after two men competing in a tournament Friday were caught stuffing their fish with golf ball-sized weights and fish fillets to, er, tip the scales in their favor.
The world of Irish step dancing convulsed with cheating allegations after evidence surfaced this week that teachers have been fixing competitions for their students.
News and not
[T]he third openly transgender actor isn't news.
Award-Winning photo
I always enjoy Atlantic's photo collections: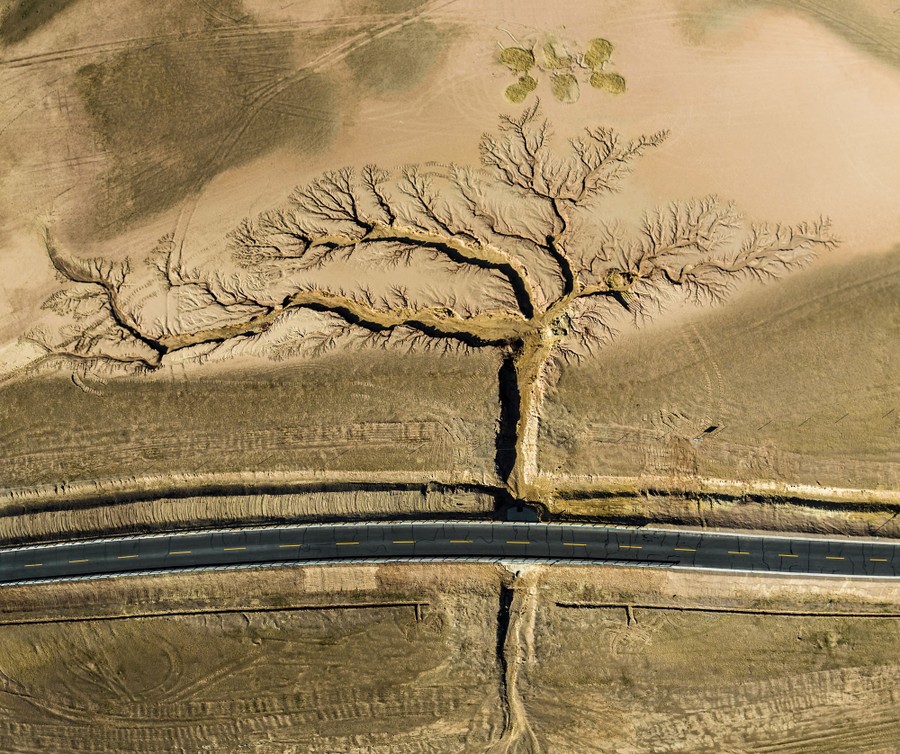 "On either side of a highway, gullies formed by rainwater erosion span out like a tree, in Tibet, an autonomous region in southwest China. To capture this image, photographer Li Ping slept alone in a roadside parking lot overnight before using a drone in the early morning hours."
Politics
Involuntarily moderate
Last month The Atlantic's Jeffrey Goldberg published a fascinating interview with Israeli prime minister Yair Lapid. … "Everybody is stuck in this left-versus-right traditional dynamic," he said. "But today, all over the world, it's centrist versus extremist."

I wanted to stand up and cheer. Now, to be clear, this is a strange position for me. I've always been conservative. In the left versus right context, I've always considered myself a man of the right—the Reagan right. But when the extremes grow more extreme, and the classical liberal structure of the American republic is under intellectual and legal attack, suddenly I'm an involuntary moderate.

… [O]utside of criminal law, it's difficult to think of an exercise of state power more raw, immediate, and devastating than the use of state power to sever the bond between parent and child [as both California and Texas do on adolescents with gender identity issues].
"Involuntary moderates" indeed. Parents care more about their own kids than do California or Texas, to whom the kids are mere political pawns.
Hecklers, trying to veto SCOTUS
Justice Elena Kagan has warned repeatedly about the risk of courts becoming politicized, but others seem less concerned. "The court has always decided controversial cases, and decisions always have been subject to intense criticism, and that is entirely appropriate," Chief Justice John Roberts said in September. "I don't understand the connection between opinions that people disagree with and the legitimacy of the court."

"A lot of the criticism of the court's legitimacy is basically a heckler's veto," [Adam White of AEI] said. "You now have waves of Democrats and progressive activists denouncing the court as illegitimate and then pointing to complaints about the court's legitimacy as proof of their own accusations."
Nobody today is heckling louder than the New York Times:
Re-Christianizing America
You would think that the most controversial claim made at the recent National Conservatism Conference—that the re-Christianization of American culture is the greatest hope for preserving the republic for future generations—would have been made by a Christian.

It wasn't. It came from Yoram Hazony, chairman of the Edmund Burke Foundation, who argued that, despite being an Orthodox Jew, he believes Christianity to be the only force strong enough to defeat leftist authoritarianism in America.
Delano Squires, Drag Queen Conservatism Is the Real Threat to Religious Freedom.
Did you catch the meaning of that consequentialist opening: we should re-Christianize American not because Christianity is true but because it's anti-woke. I do not wish to be governed by consequentialist pseudo-Christians, so I'm still in center-right classical liberal camp.
Why should we support the GOP?
Nobody on the right seems able to stop and ask: "Why? Why do we want a party whose leading lights are such figures as Donald Trump and Herschel Walker to control the Senate? Why would we want such figures as Lindsey Graham or Josh Hawley to control anything?"

Maybe there is a case for that. But I spend a lot of time around politicians, especially Republican politicians, taking copious notes on their emissions, and I have not heard a case for Republicans worth repeating in years—only a case against Democrats.

Democrats, for their part, are in essentially the same rhetorical position.

… Mitch McConnell, shrewd carnivore that he is, has tried to dissuade Republicans from producing any kind of legislative to-do list at all, and his argument for that—Why give the Democrats something to run against?—gives away the game: McConnell knows that Republicans are, at this curious political moment, entirely incapable of producing a positive agenda that is anything other than a net loss for them politically. …

The argument ends up being ridiculous for Republicans: Vote for Donald Trump so that he can snog with Kim Jong-un because Joe Biden is a … socialist? Communist? Fascist? Stalinist? Whatever. Trump was buddies with pretty much every extant Stalinist wielding real political power today, while Biden spends his days mumbling into his tapioca about the glories of the WPA.
The tiresomeness of it all
There are times, I confess, when I decide to pass on writing another column on how degenerate the Republican Party is. What else is there to say? It's not as if the entire media class isn't saying it every hour of every day.
This was not a day when Sullivan or I could pass on that topic.
Georgia Senate
Noonan
[V]oters don't expect much. They've had their own imperfect lives, and they long ago lost any assumption that political leaders were more upstanding than they. We are in the postheroic era of American politics. What voters want is someone who sees the major issues as they do. Conservatives especially see America's deep cultural sickness and wonder if the country is cratering before our eyes. In such circumstances personal histories don't count as once they did.

But I see the [Herschel] Walker story differently and expect a different outcome.

…

"The question going forward is how transactional is the average voter going to be?" If you're sincerely pro-life, how does the Walker story reflect on the pro-life movement?
Peggy Noonan, quoting former DeKalb County GOP Chairman Lane Flynn. Noonan's focus is not on Walker paying for an abortion, but for his failure to father any of his four (or more) children.
Power, with or without virtue
Conservative radio host Dana Loesch: "I am concerned about one thing, and one thing only, at this point. So I don't care if Herschel Walker paid to abort endangered baby eagles — I want control of the Senate."
Sahil Kapur on Twitter (H/T The Morning Dispatch)
Well! That settles that! (What were we talking about again?)
At one time, science said that man came from apes, did it not? But if that's true, why are there still apes? Think about it.
Herschel Walker, Republican Candidate for the Unites States Senate, via Andrew Sullivan
All Things 45
Writing for the Ages
Kevin D. Williamson's Bye, Donald Trump — Witless Ape Rides Helicopter is writing for the ages, even if it is going on two years old:
Let me refresh your memory: On the day Donald Trump was sworn in as president, Republicans controlled not only the White House but both houses of Congress. They were in a historically strong position elsewhere as well, controlling both legislative chambers in 32 states. They pissed that away like they were midnight drunks karaoke-warbling that old Chumbawumba song: In 2021, they control approximately squat. The House is run by Nancy Pelosi. The Senate is run, as a practical matter, by Kamala Harris. And Joe Biden won the presidency, notwithstanding whatever the nut-cutlet guest-hosting for Dennis Prager this week has to say about it.

Donald Trump is, in fact, the first president since Herbert Hoover to lead his party to losing the presidency, the House, and the Senate all in a single term …

…

"But the judges!" you protest. Fair point: Trump's absurd attempts to overturn the election through specious legal challenges were laughed out of court by the very men and women he appointed to the bench. Even his judges think he's a joke.

Everybody has figured that out. Except you.
Seemingly a new point about Trump
Ms Haberman makes a particular contribution with this book by describing how the annealing interplay of politics and commerce in the New York of the 1970s and 1980s equipped Mr Trump with the low expectations and cynical convictions that would carry him so far: that racial politics is a zero-sum contest among tribes; that allies as well as enemies must be dominated; that everything in life can be treated as a transaction; that rapidly topping one lie or controversy with the next will tie the media in knots; that celebrity confers power; that not only politicians but even prosecutors are malleable.

Yet these same convictions would also carry Mr Trump only so far. They doomed his presidency. After Mr Trump was elected, James Comey, the FBI director, warned him that a dossier was circulating that alleged Mr Trump had compromised himself in Russia. New York had taught Mr Trump that damaging information was a means of leverage, and so he assumed Mr Comey was threatening him. "Comey was blind to the depths of Trump's paranoia and to his long history of gamesmanship with government officials," Ms Haberman writes. Mr Trump would later fire Mr Comey, with disastrous repercussions for himself. The first exchange "set the terms" for Mr Trump's subsequent interactions with intelligence and law-enforcement officials, according to Ms Haberman.
What Donald Trump Understands, a review of Maggie Haberman's new book The Confidence Man (emphasis added).
Eating crow
Hunter Baker voted for Trump in 2016.
A binary system dictates binary choices. The Democrats were out for me. Donald Trump was the alternative.
He privately despised the never-Trumpers:
My judgment of colleagues and of various conservatives who opposed Trump was privately severe. On the surface, I fully granted the strength of their concerns. But in the confines of my mind, I concluded that they were moral free riders.
He eventually came to his senses:
I don't apologize for the votes I cast after careful (indeed, searching) consideration. However, I do have to apologize for my view of the never Trumpers whom I found to be histrionic and unrealistic. They saw further that there were significant risks involved with Donald Trump that could very well outweigh the policy outcomes. They were right about that, and they deserve an apology from me (and perhaps others who saw it the way I did) for not perceiving that their concerns were grounded in reality, not merely some idealistic moral fragility. They perceived a legitimate threat, which did come to significant fruition.
When Pragmatic Politics Goes Bad: An Apology to the Never-Trumpers
I probably haven't said this in months, so consider this a reminder. I could, given time, come up with thousands of reasons why I can never vote for Donald Trump (if nothing else, I'd chronicle some of his tens of thousands of lies). But the bottom line for me, from the very beginning, was his narcissism along with his sociopathic abuse of people who crossed him. That narcissism sooner or later was going to lead him to dangerously misjudge reality, which does not revolve around him as the planets around the sun. Either he's lying (again) or it did lead him to his inability to admit losing the 2020 Election.
---
[S]ubordinating truth to politics is a game which tyrants and bullies always win.
Jonathan Rauch, The Constitution of Knowledge
The Orthodox "phronema" [roughly, mind-set] cannot be programmitized or reduced to shibboleths.
You can read most of my more impromptu stuff here (cathartic venting) and here (the only social medium I frequent, because people there are quirky, pleasant and real). Both should work in your RSS aggregator, like Feedly or Reeder, should you want to make a habit of it.