This changes everything
I've been encountering, again and again, claims that this or that event or epoch changed everything.
Here's one:
Capitalism commodifies and exploits all life, I conclude from my life and all I can learn.
Charles G. Sellers, a consequential American historian who died Thursday at age 98. More:
In Dr. Sellers's best-known book, he argued that the rapid expansion of capital and industry in the 19th century did more than just create a new economy; it altered everything, including the way people worshiped, slept and even had sex.
And an implied change:
Even if we admit that material development does have certain advantages—though, indeed, from a very relative point of view—the sight of consequences such as those just mentioned leads one to question whether they are not far outweighed by the inconveniences. We say this without referring to the many things of incomparably greater value that have been sacrificed to this one form of development—we do not speak of the higher knowledge that has been forgotten, the intellectuality that has been overthrown, and the spirituality that has disappeared. Simply taking modern civilization on its merits, we affirm that, if the advantages and inconveniences of what has been brought about were set against each other, the result might well on balance prove to be negative.
René Guénon, The Crisis of the Modern World
And, implicitly, yet another (though it doesn't identify what, between Dante and now, so radically altered our metaphysics):
What's the bare minimum you need to know about Dante's metaphysics to get the Commedia, and especially Paradiso. [Christian] Moevs tells us that these metaphysics are not specifically Christian, that they derive from Plato and Aristotle, and "undergird much of the Western philosophical-theological tradition to his time and frame all later medieval Christian thought." Here, in Moevs' words, are the five principles you need to know:

1. The world of space and time does not itself exist in space and time: it exists in Intellect (the Empyrean, pure conscious being).

2. Matter, in medieval hylomorphism [the matter-form analysis of reality], is not something "material": it is a principle of unintelligibility, of alienation from conscious being.

3. All finite form, that is, all creation, is a self-qualification of Intellect or Being, and only exists insofar as it participates in it.

4. Creator and creation are not two, since the latter has no existence independent of the former; but of course creator and creation are not the same.

5. God, as the ultimate subject of all experience, cannot be an object of experience: to know God is to know oneself as God, or (if the expression seems troubling) as one "with" God or "in God."
I put up with a lot of unsettling hand-wringing and apocalyptic blogs from Rod Dreher because he (so far) eventually settles down, synthesizes, and comes forward with something worthwhile and conversation-altering. He's currently working on a promising book that, from various viewpoints, is an aid to:
We probably cannot un-change everything by act of will, individually or collectively, but I intend to try to escape its straight-jacket.
Self-discovery
Sometimes it takes a litmus test to reveal myself to myself.
I've been skeptical that there is any such thing as a bona fide religious objection to the Covid vaccine. The Roman Catholic Church, for instance, has evaluated the role of fetal stem cells in Covid vaccine development and given the vaccines a green light. But I know that the law gives a lot of leeway to even totally solipsistic and bat-shit crazy "religious" convictions (so long as they don't hurt the tender feelings of some member of a "sexual minority").
The litmus test came a few mornings ago with a brief news item, ‌Suit Says Trader Joe's Failed To Accommodate Religious Objection To COVID Vaccination. I instantly sided with Trader Joe's — and when I say "instantly," I mean I felt no need to read beyond that headline.
I'm not saying I'm right to discount such "religious" objections, but three weeks ago, I didn't go to the E.R. with some worrisome abdominal sensations (it's under control now) because I knew the E.R. would already be overwhelmed with jackasses who lost their games of Covid Chicken.
Dehumanization
A pastor praying aloud, holding a dying man's hand, would bring too much flesh, too much humanity, into the thing. Execution theater is all about maintaining the illusion of mechanism.
Elizabeth Breunig (native Texan) on Texas' refusal of John Henry Ramirez's request for his pastor to "lay hands on and pray over him in the execution chamber."
Breunig here, I think, cuts to the heart of the issue from Texas' point of view. The issue cannot plausibly be that there's no Biblical or historical support for Ramirez's request. A lot of criminal justice and the media theater around it is, I believe, calculated to dehumanize criminals (and to give families of victims a "closure" that I doubt exists).
1619 Project drives the conversation … by its wrongness
"As I would later confirm with the foremost scholars of the subject who know far more about the Revolution than I, there is no evidence of a single colonist expressing support for independence in order to protect slavery. The 1619 Project's claims were based not on historical sources but on imputation and inventive mindreading," – Sean Wilentz, one of the foremost historians on the Revolution, writing for a Czech journal.
Via Andrew Sullivan‌.
Bowdlerizing the Notorious RBG
This week the organization that once defended freedom of speech [the ACLU] tweeted out a famous quote from Ruth Bader Ginsburg, with some, er, editing:

The decision whether or not to bear a child is central to a [person's] life, to [their] wellbeing and dignity… When the government controls that decision for [people], [they are] being treated as less than a fully adult human responsible for [their] own choices.

RBG never wrote or meant the words in parentheses. She wrote "woman" and "her." In fact, she was explicit in her view, often repeated, that "the one thing that conspicuously distinguishes women from men is that only women become pregnant." This was central to her argument for sex equality. The reformulation by the ACLU is meaningless without that distinction.

Their argument, of course, is that this wording excludes trans men, who have uteruses and thereby can have abortions, while identifying as men.

Let's first stipulate that an infinitesimal fraction of abortions may indeed be linked to uteruses whose owner has a male gender identity. But that doesn't mean his biological sex is male, or that his reproductive system is male. Gender identity is not sex, and cannot erase its reality. And in so far as a trans man is pregnant, it is as a biological woman. And the term "woman" in RBG's quote would therefore include him in this physiological context.

The reason the ACLU cannot accept this sane form of inclusion is because they insist that gender identity trumps biological sex. That is why the woke insist not just that someone biologically female is male in every respect but that every physiological part is male as well: that's why a "clitoris," for example, is actually a "lady-dick," and gay men who are not into "lady-dicks" are not truly gay, but anti-trans bigots. Very few things express the insanity of gender theory than this simple denial of basic biology, a denial now echoed by every major American institution, even hospitals, and yet rejected by science and over 99 percent of human beings who have ever lived or ever will.

One more thing: the fanatical insistence on this "inclusion" for the woke is non-negotiable, a near-religious imperative. That's why it merits even correcting the past, by altering the historical record. The ACLU put anachronistic words in RBG's mouth, because her actual quote they seriously regard as a "form of violence" against trans people. Therefore religious censorship — even of RBG — is one of the ACLU's core values now. One of their new tenets is quashing blasphemy.

If you want to understand why a monster like Trump has such traction you only have to take a tiny glimpse at this performative left absurdism and realize just how far gone our elites now are.
Andrew Sullivan‌ (emphasis added).
I can't imagine the ACLU quoting an anti-trans bigot like RBG. 😉
Black Lives Matter
The slogan "Black Lives Matter" is a form of persuasion that seeks to be as anodyne in its tone and minimal in its assertion as possible, (indeed, almost self-parodically so) and therefore impossible to dispute. Its exponents then pack in as much sectarian content, much of it disputed, and much of it distant from the issue of police brutality that the slogan ostensibly addressed, as possible into that otherwise unimpeachable assertion.
Wesley Yang. That's about as good a distillation as I can imagine for why I affirm that black lives matter without affirming Black Lives Matter.
The paragraph concludes:
Do the black inner-city males between 18-30 who are the primary targets of policing and its associated abuses really believe that no one is free unless Palestine or LGBTQ people are free? Do they agree that we must "dismantle the nuclear family requirement" and all the other left-wing shibboleths written into the manifesto for the Movement of Black Lives? Is it possible to dispute any of these shibboleths without thereby disputing the core assertion with which no one disagrees, and thereby placing oneself beyond the pale of civilized society?
Staying in one's land
Especially during these divided days when feelings (and tempers) are running high, it is easy for us clergy to combine the timeless Gospel with the challenges of the current crisis, and think that we are preaching the Gospel when we are in fact simply picking a side in a complex debate. It is easy for us to believe that part of our task as clergy is to call our country back to God, as if each of us were the prophet Jeremiah. Let us remember that: 1. We are not Jeremiah, and that 2. Jeremiah functioned in a nation which was under solemn covenant with God in a way that no other nation was or is.

It is sadly true that Canada, America, and the West generally are immorally departing from God and are going down the tubes. But it is not the Church's job to prevent that. It is the Church's job to say to the world, "The Kingdom of heaven is at hand; repent and believe the Gospel". The job of trying to impede the West's slide into secularism belongs to individual Christians, not to the Church as Church.

This does not mean that the Church as Church should not address moral issues in society. The Church may still declare to the State that abortion is murderous, that marriage is only between a man and a woman, and that racial discrimination is sinful and wrong. These issues are clear, simple, and unambiguous, unlike many political issues. These are moral issues, not political ones, even though they have political ramifications, and the Church should not shrink from speaking to society about them. A moral issue is not the same as a political one.
Heretics
I'm old enough to remember when heresy was understood to be deviation from long-establish beliefs and practices. But in a social-media environment that issues new commandments every fortnight or so, the heretics now are the ones who don't deviate when told to do so. And they are hated with particular intensity because they are a living, breathing reproach to their colleagues' complete lack of ethical standards.
Crazy person update: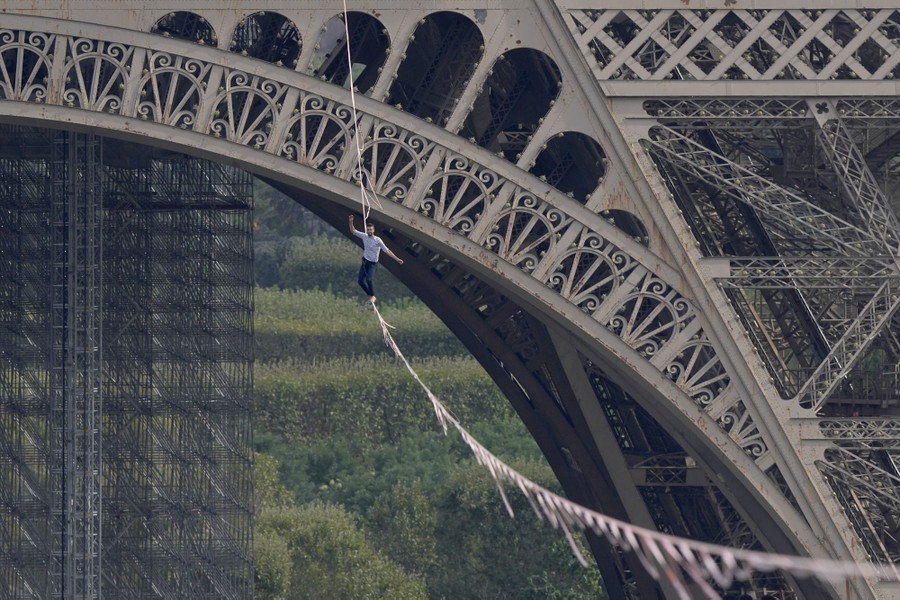 French slackliner Nathan Paulin performs on a 70-meter-high slackline between the Eiffel Tower and the Chaillot Theater, across the Seine River, in Paris on September 19, 2021. # Francois Mori / AP
(Via the Atlantic)
Partisan Political
The rest of this post is rather partisanly political. Like a dog to its vomit, I keep returning to this second-order stuff — less to feed my anger than to see why others are so angry.
You have been warned.
Relitigating 2020
This was a good week for anyone enthused about relitigating the 2020 election. First there was new evidence, reported in a new book about the Biden family from the Politico writer Ben Schreckinger and in an Insider story on an abortive Libya-related influence operation, suggesting the famous Hunter Biden emails were real and indicating how much Hunter's influence-peddling depended on proximity to his father. The Twitter and Facebook decisions to censor The New York Post's election-season version of the Hunter Biden story looked partisan and illiberal at the time; now they look worse.

Then along with that spur to conservative frustration there was a new revelation for Trump-fearers: the exposure of the entirely insane memo that the conservative legal scholar John Eastman wrote explaining how Mike Pence could supposedly invalidate Joe Biden's election. This was presumably the basis for Donald Trump's futile demand that Pence do exactly that, and it's understandably grist for the "coup next time" fears that already attend Trump's likely return to presidential politics.

…

Along with any worries about Trump stealing the next presidential election, then, Democrats should recognize the possibility that he might simply win it.

…

Here it would be really helpful if Biden had a vice president who balanced his weaknesses and reaffirmed his strengths — who seemed more energetically engaged with policy and congressional politicking while also extending his normalcy-and-moderation brand should she be required to inherit it.

I will leave it to the reader to decide whether that describes the Kamala Harris vice presidency to date — or whether Harris offers more reasons for Democrats looking toward 2024 to fear not just chaos but defeat.
Ross Douthat, Can Biden Recover
Ignoring the base
Up until the 1960s, those active in liberal and progressive politics were drawn largely from the working class or farm communities, and were formed in local political clubs or on shop floors. That world is gone. Today's activists and leaders are formed almost exclusively in our colleges and universities, as are members of the mainly liberal professions of law, journalism, and education. Liberal political education now takes place, if it takes place at all, on campuses that are largely detached socially and geographically from the rest of the country—and in particular from the sorts of people who once were the foundation of the Democratic Party.
Mark Lilla, The Once and Future Liberal.
What use are political labels? Those "liberal and progressive" figures from before the 1960s would today be called populists, and would fall in with the social conservatives on issues like family and sexuality — and above all, that we live in a world of limits. Meanwhile, a mark of "conservatives" today is support of modern capitalism and with the ideology of unlimited economic growth.
I this regard, read Christopher Lasch's essay Conservatism Against Itself in a very early edition of the journal First Things. He even holds up for consideration the alternatives of syndicalism and guild socialism!
I wouldn't want any one person to have that authority
And here is a chilling part of the conversation where Trump tried to pressure Pence into submission. Pence said he had no authority to send the election to the House:

"Well, what if these people say you do?" Trump asked, gesturing beyond the White House to the crowds outside. Raucous cheering and blasting bullhorns could be heard through the Oval Office windows. "If these people say you had the power, wouldn't you want to?" Trump asked.

"I wouldn't want any one person to have that authority," Pence said.

"But wouldn't it almost be cool to have that power?" Trump asked … "Mike, you can do this. I'm counting on you to do it."

This is a president using the threat and thrill of a violent mob to pressure his vice-president into subverting the Constitution. If that doesn't capture the essence of fascism, what does? If that wouldn't put someone beyond the pale of democratic politics for ever, what would?
Andrew Sullivan, ‌The Deepening Menace Of Trump.
I believe this exchange is from the new Woodward & Costas book Peril, and thus is meant to make vivid the gist of Trump's pressuring Pence.
I had no problems with Pence as my governor and was puzzled, almost baffled, by the yard signs against him when we were nowhere near an election. But I have no sympathy with him now: "Lie down with dogs, rise up with fleas" is the story of almost all public servants who tried to be a bit of leaven in an administration that was doomed from the beginning to domination by the unprecedented narcissist in the Oval Office.
Rational Ignorance
One of the Volokh Conspiracy bloggers blogged repeatedly about voters' "rational ignorance" a few years ago. I now suspect it was Ilya Somin, author of a book and an article on Voting with Our Feet. In the article, Somin also posits that voter irrationality can be rational ("rationally irrational"), which made me think, of course, of how we got to the nadir of "45" a/k/a Orange Man.
But even if voter irrationality can be rational, I can barely begin to understand any desire, however irrational, to put Donald Trump in the White House. Back when there wasn't a whiff of politics about him (that I knew of), I was baffled by an aspiring lawyer who eagerly rushed to get a copy of The Art of the Deal the first day it was available. I have just never found anything admirable about him, and I paid him no substantial heed until his freakish political success forced him into my life.
This week, the Dispatch surveyed the landscape of 45's increasing fecklessness on Congressional votes, but his influence on voters and his (sigh!) apparent intent to run for President again in 2024. (Kamala Harris versus Donald Trump will be a choice more hellish than Hillary versus Trump — and I wrote that before Ross Douthat's Sunday column, above).
I hope (and even suspect) that what's going on in the Republican part of Congress is a bit like the parable of the two sons, the second of whom said "'I go, sir', but went not." Lip service to narcissist Orange Man ("I go") may be all it takes to keep him from manufacturing a primary challenger, regardless of what you do (short of saying anything critical of Trump).
A guy can hope, can't he?
---
You can read most of my more impromptu stuff at here. It should work in your RSS aggregator, like Feedly, should you want to make a habit of it.