Still more on Dobbs
As I know the lay of the land uncommonly well, I am trying to say some genuinely useful things, that are not being said very commonly, on the reversal of Roe and Casey. I'm also trying to avoid worsening tensions. I even exited social media for a few days (maybe more than necessary — I've been peeking) when a discussion started getting unproductively heated.
Face-saving failure
Confirmation hearing vignettes:
Here's Justice Gorsuch: "Roe v. Wade, decided in 1973, is a precedent of the U.S. Supreme Court. It has been reaffirmed. . . . So a good judge will consider it as precedent of the U.S. Supreme Court worthy as treatment of precedent like any other."

He added that "If I were to start telling you which are my favorite precedents or which are my least favorite precedents, or if I viewed precedent in that fashion, I would be tipping my hand and suggesting to litigants that I have already made up my mind about their cases."

And here's Justice Kavanaugh: "Roe v. Wade is an important precedent of the Supreme Court. It has been reaffirmed many times. It was reaffirmed in Planned Parenthood v. Casey in 1992. . . . So that precedent on precedent is quite important as you think about stare decisis in this context." He made no specific pledge about either case that we have seen. Justice Amy Coney Barrett expressly rejected the idea that Roe was a super precedent.
Wall Street Journal Editorial Board, which also explains why a nominee cannot pledge to uphold a precedent or to strike it down:
Sens. Susan Collins and Joe Manchin said Friday they feel Justices Brett Kavanaugh and Neil Gorsuch deceived them on the precedent point in testimony and in their private meetings with the Justices. We weren't in those meetings, but we'd be stunned if either Justice came close to making a pledge about Roe.

The reason is that the first rule of judging is that you can't pre-judge a case. Judges are limited under Article III of the Constitution to hearing cases and controversies, and that means ruling on facts and law that are specific to those cases.

No judge can know what those facts might be in advance of a case, and judges owe it to the parties to consider those facts impartially. A judge who can't be impartial, or who has already reached a conclusion or has a bias about a case, is obliged to recuse himself. This is judicial ethics 101.

An authority on this point is no less than the late progressive Justice Ruth Bader Ginsburg, as she explained in 1993. "It would be wrong for me to say or preview in this legislative chamber how I would cast my vote on questions the Supreme Court may be called upon to decide," she said. "A judge sworn to decide impartially can offer no forecasts, no hints, for that would show not only disregard for the specifics of the particular case, it would display disdain for the entire judicial process."
Frankly, no nominee should ever pledge their vote on any issue at confirmation hearings. That alone would be a disqualifier. Any Senator worth his or her seat should understand that, and since I respect them as senateworthy, I suggest that both Collins and Manchin do understand it. Their face-saving isn't convincing.
Now flooding the zone shamelessly
As I scan the New York Times Opinion page since Friday morning, it's apparent that "flooding the zone with sh*t" is not a MAGAworld exclusive.
Do not trust the Grey Lady for reliable interpretation of Dobbs overruling Roe or for prognostications about what a supposedly agenda-driven court is going to do next. (Exception: Ross Douthat wrote one of the wisest things I've read in the aftermath, and they did publish it.)
Is the court going to ban contraception? Ban sodomy? Ban same-sex marriage? Overrule the precedents that dogmatized rights to each into existence?
Just remember: courts decide cases. They don't go out and make mischief on their own. So how would SCOTUS even get a chance to rescind these other "unenumerated rights"?
Damon Linker (After Roe: The Reversals to Come), who I respect enough to read when it's obvious we disagree, imputes a nefarious agenda to the court but skips any suggestion of how it would get the opportunity to realize that agenda.
I can think of no obvious way other than some jurisdiction banning contraception, sodomy or same-sex marriage, resulting in a fresh round of litigation.
What do you think of the life expectancy of a legislator, even in Texas, who proposed to outlaw contraception? Outlawing sodomy would be a hard sell in 2021 even in red states. I could imagine a performative bill to define marriage as sexually binary, but have trouble imagining it getting very far.
If it did, the lower Federal courts would almost certainly strike such a law down under Griswold, Lawrence or Obergefell. Then SCOTUS could just decline to grant certiorari.
If it granted "cert," the stare decisis analysis on those precedents would include factoring in some very, very concrete reliance on Obergefell in the SSM context.
I'm no prophet, and I'm not close enough to the political poles to be incapably of suffering rude surprises, but I just don't see those other precedents falling until there's I'm long in the grave and there have been some major wake-up calls from realities we've had on call-blocking for a while.
Heartening
After weeks of incendiary rhetoric, attacks on crisis pregnancy centers, and a foiled attempt on Justice Brett Kavanaugh's life, Planned Parenthood and other pro-abortion groups formally disavowed violence in the name of their cause. Those who use "destruction and violence" do not speak for them or the movement, the groups said in a statement.
On a related note, one of my favorite Substackers, Freddie deBoer, scared me by opening that it's time for the Left to engage in extralegal resistance. Fortunately, it turned out that he meant things like helping abortion-minded women get to states where abortion is legal, or even to help them find clandestine abortions in their own states.
I don't even think the former could be criminalized; the latter, perhaps.
Victor Rosenblum
As I was writing yesterday that I wish Nat Henthoff had lived to see Friday's Dobbs decision, I was wracking my brain for the name of his "country cousin" (also a prolife liberal Jewish Democrat) at Northwestern University Law School. I finally gave up. Of course, it finally came to me this morning. So: I also wish Victor Rosenblum had lived to see this day.
Advice for the despondent
After stylishly signaling his pro-choice virtue, Garrison Keillor shows some sympathy for the 6 justices who are now pariahs, and then turns to some good advice for his own tribe:
Meanwhile, remind yourself that other people have thrived under wretched governors so don't be discouraged. The Duke of Saxe-Weimar threw Bach in jail for daring to think he had individual rights. Dante was sent into exile and he wrote the Inferno so he could put the politician Argenti into the Fifth Circle of Hell. Dostoevsky joined a liberal study group for which, in 1849, he was thrown into prison and sentenced to death by firing squad, and was third in line to be executed when a pardon arrived. He lit out for Paris, London, Berlin, and figured out how to survive, writing Crime and Punishment in serial installments for magazines, avoiding politics. While cruelty is in power, do what Mozart did. Exercise your gifts. Create beautiful things. Wolfgang stayed clear of emperors and did his work and he lives on today and the emperors are just moldy names on marble slabs covered with pigeon droppings. If you can't write The Marriage of Figaro, write your own marriage and make it a work of art.
That's kind of what I've been trying to do, in my very limited way, for more than a decade. I like to think of myself as that proverbial butterfly in the Amazon, very subtly changing the weather in Indiana.
Not Dobbs
Still flooding the zone
The Donald reads conservatives out of MAGAworld
Bozos on the bus
What we need as a nation, more than anything else I can think of, is a recommitment to basic competence, and, especially, a refusal to accept ideological justifications for plain old ineptitude. Too often Americans give a free pass to bunglers and bozos who belong to their tribe.
Alan Jacobs, I think we're all bozos on this bus – Snakes and Ladders
Inauguration Day 2017 in a Nutshell
Speaking of clowns:
When a clown moves into a palace, he doesn't become a king. The palace becomes a circus.
Turkish Proverb (reportedly)
A little levity
I probably have given too short shrift to the January 6 Committee hearings because … well, I didn't think anything they said would change my life or my vote. But I sure got a chuckle out of this: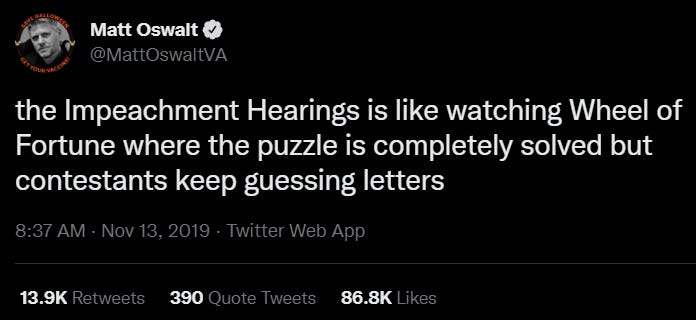 H/T Yassine Meskhout
---
If people have always said it, it is probably true; it is the distilled wisdom of the ages. If people have not always said it, but everybody is saying it now, it is probably a lie; it is the concentrated madness of the moment.
Anthony Esolen, Out of the Ashes
You can read most of my more impromptu stuff here (cathartic venting) and here (the only social medium I frequent, because people there are quirky, pleasant and real). Both should work in your RSS aggregator, like Feedly or Reeder, should you want to make a habit of it.