Culture
Transhumanism
I find transhumanism repugnant, and I believe in the wisdom of repugnance because I believe that some truths are not susceptible of distillation to catchy slogans for the ADHD World we live in, and perhaps not possible to articulate directly at all.
But I was unaware that there was more to it than billionaire nerds asking "wouldn't it be cool if we could upload our brains and live forever?" No, there's another case, superficially more plausible:
If humanity's technological progress can be compared to climbing a mountain, then the Anthropocene finds us perched on a crumbling ledge, uncertain how long we have until it collapses. The most obvious way out is to turn back and retrace our steps to an earlier stage of civilization, with fewer people using fewer resources. This would mean acknowledging that humanity is unequal to the task of shaping the world, that we can thrive only by living within the limits set by nature.

But this kind of voluntary turning back might be so contrary to our nature that it can never happen. It is far more plausible that the human journey was fated to end up in this dangerous spot ever since we first began to change the ecosystem with farming and fire. Such a view forms the basis of antihumanism, a system of thought that removes humans from their pedestal and contends that, given our penchant for destruction—not only of ourselves but also all other species—we are less deserving of existence than are animals, plants, rocks, water, or air. For antihumanists, the only way off the precipice is a fall, with the survivors left to pick up the pieces. And if there are no survivors, that wouldn't be a tragedy; there will always be beings in the world, even if there are no human beings.

Australian philosopher Toby Ord uses the image of the crumbling ledge in his book The Precipice: Existential Risk and the Future of Humanity (2020). "Fueled by technological progress, our power has grown so great that for the first time in humanity's long history, we have the capacity to destroy ourselves," Ord writes. He believes that the odds of this happening in the next 100 years are about one in six, the same as in a game of Russian roulette. "Humanity lacks the maturity, coordination and foresight necessary to avoid making mistakes from which we could never recover," he concludes.

Ord is not an antihumanist but rather a transhumanist, a research fellow at the world's leading center for transhumanist thought, Oxford University's Future of Humanity Institute, which looks to scientific and technological advances as the only path forward. Transhumanists agree with antihumanists that human nature is morally and physically circumscribed in ways that make it impossible for us to get past the precipice. They likewise agree that Homo sapiens is doomed to disappear. But for transhumanists, this is a wonderful prospect because we will disappear by climbing instead of falling. As Ord writes, "Rising to our full potential for flourishing would likely involve us being transformed into something beyond the humanity of today." That something will no longer be "us" in the strictest sense, but our posthuman successors will preserve what is best and most important about us. "I love humanity, not because we are Homo sapiens, but because of our capacity to flourish," Ord writes.
Adam Kirsch, The End Is Only the Beginning (The American Scholar)
The appeal of that comes from its familiarity: We've been making problems with technology, then solving them with more technology, for a fairly long time now. Unless you stop to think about it, that seems normal.
(H/T Alan Jacobs)
Humanity without limits seems at best inhumane to me. Nonetheless, I recommend the American Scholar article, which pairs well with C.S. Lewis, That Hideous Strength
White nationalism
The constant accusations of "white nationalism" remind me of preachers and other polemicists calling Playboy "hard-core pornography" 50 years or so ago. People are going to catch on fairly quickly when they see something white nationalist/hard-core and there's no term left on the rhetorical spectrum to describe it.
Haute Couture
I don't recall ever seeing a piece of haute couture that so vividly captures the intersection of aburdity and misogyny: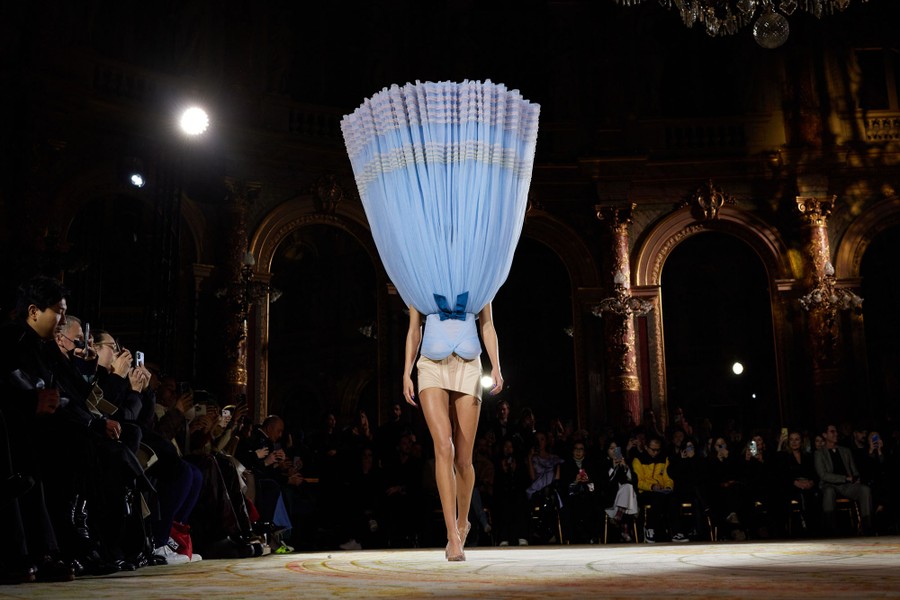 (H/T the Atlantic)Legal
Legalia – Brett Kavanaugh
Perhaps because of some new movie or something, Justice Brett Kavanaugh seems to be back in the news, and it set me thinking about his confirmation hearings again.
When I was becoming a lawyer, I had to sit for a personal interview with another lawyer (or two). One of the questions was "Have you ever broken the law?" My answer was that, starting around age 19, I had two alcoholic beverages, one on each of two occasions, contrary to law. He/They were amused at my candor.
Back to Justice Kavanaugh: the thing that bothered me most about his nomination was his long history of drinking to drunkenness, beginning in high school and continuing, apparently, nonstop to present. I supported him before I knew of this, waffling afterward (I'm a bad member of any tribe).
I expect greater respect for the law from highly-placed Judges. I am obviously not squeaky-clean in the underage drinking department, but I'm close, I admit that I broke the law, and I admit that I was wrong. Kavanaugh lied and tap-danced about his drinking.
"But are you serious that 'the thing that bothered me most about his nomination was his long history of drinking to drunkenness'? Two women accused him of sexual assaults!"
Yes, I am serious. I was not convinced by those two female accusers. But the history of drinking made both charges more plausible than they would have been without that history. Drunken sexual encounters, voluntary, involuntary and borderline, are the bane of every major university, and both accusations fit fairly well into the "drunken frat boy/drink until you're irresistible" pattern.
Had I been a Senator, I think I'd have voted to reject the nomination, not because I found those accusations likelier true than not, but because I don't want an unrepentant, somewhat sanctimonious, drunk on the Supreme Court — a man against whom the accusations had some sting.
Politics
Red-pilling for power
Damon Linker does a pretty good job in The Red-Pill Pusher of explaining and rebutting Curtis Yarvin, a "neo-reactionary" (Linker's term, but I doubt Yarvin would reject it), of whom I had heard, and probably could have placed as Right rather than Left figure. Beyond that, I was essentially ignorant of Yarvin's particular spin on things — or how much influence it has built in formerly-reputable conservative circles like Ohio Senator J.D. Vance, whose Hillbilly Elegy marked him as someone with a background and a mind possibly suited to high office.
Yarvin gets a lot of facts right, a few more plausible. Yet my reaction against his conclusions is different than what Linker articulated (which probably was less than what he could have articulated).
Here's my problem with Yarvin. He is hungry for power, and his obsession with power has already corrupted him. He has made it clear that among his first exercises of power would be sweeping, radical firings that would cripple government (and cause much misery to the newly-unemployed). Then he and his mostly-unnamed pals would amateurishly assume most or all of the vacated offices and try to impose their will on a country that's about 50% of a different mind. It would make the Trump years a model of decorum and competence in comparison. I think it highly likely that there would be much bloodshed.
I have no reason to trust that their program would make the country better or make its citizens freer.
No thanks.
Signs of hope
I recently (like within the past half hour as I type) heard a preacher say that he has only seen one encouraging sign in public so far this year: a bunch of NFL players kneeling and praying around a teammate felled on the field by a heart attack.
It's a tempting narrative: world; hell; handbasket. You can fill in the blanks.
Yet I see other signs — contemporaneous if not distinctly 2023.
I found it encouraging that a high proportion of the worst emerging Republican jackasses were handed their heads by voters last November.
I find it encouraging that honest liberals, and even one Marxist, keep saying things that get them labeled — oh, I don't know; "white nationalists," probably. Examples here and here.
I find it almost as encouraging that most honest conservatives have no use for Donald Trump and say to in terms that gives aid and comfort to liberals. (A bold claim I know, but I can always fall back on the No True Scotsman fallacy if you find a counter-example.)
Indeed, I find it encouraging to be reminded that center-left and center-right have an awful lot in common when compared to the alternatives.
The Quaker's Mule Who Wouldn't Plow
One of my favorite stories is about the Quaker whose mule refused to plow.
The Quaker tried to coax him every way he knew. Finally, he stepped around in front of the mule, took him gently by the ears, and stared into his eyes.
"Brother mule, thou knowest that I am a Quaker. Thou knowest I cannot beat thee. Thou knowest I cannot curse thee.
"With thou knowest not is is that I can sell thee to the Baptist down the road, and he can beat the living daylights out of thee." 
Mitch Daniels, though Presbyterian rather than Quaker, ran no negative ads in his two successful runs for governor of Indiana, yet he won re-election in a year when Barack Obama memorably took Indiana's electors in the presidential race. As President of Purdue (recently retired), he froze tuition for ten years.
It does my soul good cheers my sinful heart, then, to see that Mitch has supporters who are willing to respond to barbarians who are trying to keep him from running for the Senate seat Mike Braun will vacate next year to run for governor:
Then with a toxic blast of political rectal gas, [Representative Jim] Banks signaled he would enter the brewing 2024 U.S. Senate race. Teaming up with Club for Growth President David McIntosh, the pair did something we've never seen before: Running a preemptive TV ad designed to keep a rival — Mitch Daniels — out of the race.

… [I]n the eyes of Club for Growth, a PAC of billionaires, it said in the TV ad, "After 50 years in big government, big pharma and big academia, Mitch Daniels forgot how to fight. An old guard Republican clinging to the old ways of the bad old days."

Long-time GOP operative Mark Lubbers responded to the Club for Growth TV ad, telling me, "These are the same people who cost us Republican control of the Senate. Sad to see that Banks has thrown in with them."

…

Donald J. Trump Jr. then tweeted on Jan. 13: "The establishment is trying to recruit weak RINO Mitch Daniels to run for U.S. Senate in Indiana. The same Mitch Daniels who agreed with Joe Biden that millions of MAGA Republicans are supposedly a danger to the country & trying to 'subvert democracy.' He would be Mitt Romney 2.0."

This was the first time anyone had described Daniels as a "weak RINO."

Lubbers responded to Trump the younger: "You think the progressive left needs to be fought; we think it needs to be BEATEN. That requires optimistic positive conservatism that builds majorities, wins elections & makes policy. Not just foaming at the mouth, counting tweets, and grifting contributions. Hit the road."
Thank you, Mark Lubbers. And I'm very disappointed with David McIntosh — though it's possible that he's who he always was but I've changed.
Freddie clears the bases
Freddie deBoer hits a grand-slam homerun. Excerpts:
When you think politically, … think of the most privileged person you have ever seen, and ask if your next act will be of any threat to him. I call this the Rich Uncle Pennybags test, after the guy from Monopoly. The question is, does your next proposed political action hurt Rich Uncle Pennybags? … I am saying that a left-wing movement that devotes most of its time, effort, and attention to actions that fail the test risks no longer being a left-wing movement at all. I'm saying that a left wing that constantly fails the Rich Uncle Pennybags test is precisely the kind of left-wing movement that establishment power would prefer to face – a movement about symbolism over substance, about the individual rather than the masses, about elevating minorities in the ranks of a corrupt system rather than ending that corruption, about personal antipathy rather than structural reality.

…

[P]olitics is about mass action at scale, and the ability of politics properly understood to address interpersonal bigotries is limited. What's not limited is our ability to reduce economic and social inequalities between identity groups, if we engage in politics in the right spirit and with a healthy understanding of the need to achieve structural change instead of personal critique – the kind of structural change that Rich Uncle Pennybags can't ignore.
That's a really good understanding of politics, even if you're on Uncle Pennybag's side. But the best parts were (1) examples of pseudo-progressive obsessions that fail the test and may even strengthen Uncle Moneybags, and (2) things I read between the lines.
F'rinstance, Uncle Moneybags doesn't mind DEI training. It may even help him. He probably doesn't mind the rich kids of Antifa.
And just as the Right is full of people whose whole purpose in public life seems to be trolling and triggering the Left, so the Left is full of people whose whole purpose in public life, objectively, seems to be trolling and triggering the Right. They fail the Uncle Moneybags test and, along with their equally self-indulgent Right-wing co-conspirators, debase our visible political discourse and waste time that could be spent on consequential, not clickworthy, things.
A Pleasant Surprise
The Justice Department announced Tuesday two Florida residents had been indicted for allegedly vandalizing at least three pro-life pregnancy centers in Florida, spray-painting threats like "if abortions aren't safe than niether [sic] are you," "WE'RE COMING for U," and "YOUR TIME IS UP!!" on the sides of the buildings. If convicted of the charges—which also included violations of the Freedom of Access to Clinic Entrances (FACE) Act—each defendant could face a maximum of 12 years in prison and fines up to $350,000. A number of crisis pregnancy centers around the country faced threats or violent attacks in the months leading up to and following last year's Dobbs decision.
If forced to wager, I'd have wagered that Biden's DOJ would never ferret out and prosecute the perpetrators of any attacks on pro-life pregnancy centers. Since I didn't wager, I'm pleased to have my mild bias disproven.
Nonconformists
Transgender woman with Mike Tyson face tattoo GUILTY of raping two vulnerable mums with "her penis"
Most of the press went along with the defendant's post-arrest change from man to woman, as did the judge, calling him "she" throughout the trial." The Sun, god bless 'em, did not.
---
Tradition is a bulwark against the power of commerce and the dissolving acid of money, and by removing these, all revolutions in the modern period have ended up accelerating the commercial and technological shift towards the Machine.
You can read most of my more impromptu stuff here (cathartic venting) and here (the only social medium I frequent, because people there are quirky, pleasant and real). Both should work in your RSS aggregator, like Feedly or Reeder, should you want to make a habit of it.